For sale Wine estate Bordeaux (33000)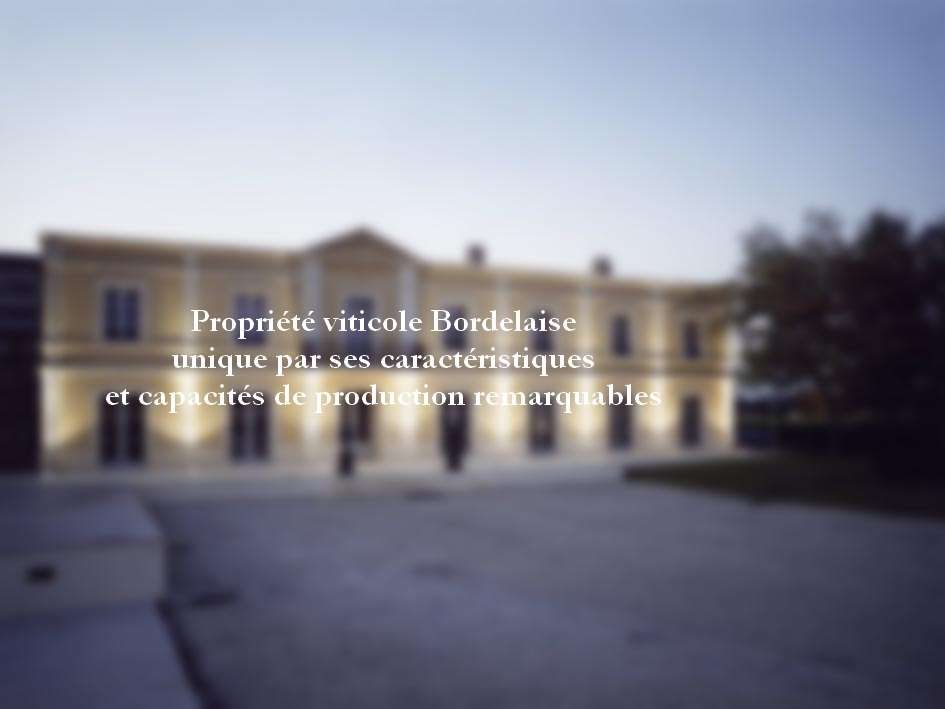 15,750,000 €

Agency fees chargeable to the seller
Ref. :

3863
Surface :

380 m²

Surface :

95 ha

rooms :

8
Ref.3863 : For sale, in whole or in association with the current owner, important wine property in the Bordeaux region

The property is located in the wine region of Blaye / Côtes de Bordeaux, 35 km from Bordeaux. Its prestigious geographical situation is privileged for its access and conveniences: Railway station connecting Bordeaux: 3 km; Mérignac's Airport : 45 km; Highway exit: 8 km and free way : 2 km

The property consists of:
A. A chateau, a bourgeois residence, rebuilt in 1979, with around eight main rooms, for 380 sqm. It is extended by an important winter garden in with a swimming pool in front.

B. Agriculture and winemaking buildings :
A space to welcome the public
A reception room of 230 sqm
Additional accommodation
Sheds
1 Harvest reception building
3 winemaking cellars, red and white wines
3 Barrel cellars underground
2 bottle cellars underground
Bottling, & packing lines building

C. Vines in property : 56,29 ha cultivated in Lyre*.
* It's the largest Lyre vineyards in France

D. Leased vines : 16.60 ha

E. All the equipment of production

E. The intangibles éléments: It's necessary to inform that normally a Château in Bordeaux is not allowed to use more than 2 commercial « Château names » except if some outside lease contracts are also attached to the Estate. However here, 2 lease contracts are brigning a total of 4 Château names currently used. This is giving a rare and exceptionnal commercial flrxibility . (Dépôts INPI & Fédération des Grands Vins)

F. The intangibles éléments:

G. Réputation of the brands and the Estate

H. Commercial DEVELOPMENT: 80% of the production is exported to around 30 countries, 20% is sold in France to Professional and privates.

Concerning the stocks, they will be valued separately if necessary.

It is possible to sell the entire property by buying out the shares of the holding companies.
However, the family, which is in its 5th generation of owner-managers, would like to encourage the transfer of 49 to 99% of its shares, by integrating a partner who will have the capacity to facilitate the sale of part of the production and allow an increase in production.
In this way, the production tool can be made profitable and perform well thanks to the production capacity for which it was designed.
The family will be able to continue to use its skills in the management and administration of the estate.
The family seeks a partner to build the story together.

We invite you to visit our website Cabinet Le Nail ( www.cabinetlenail.com/en/ ) to browse our latest listings or find out more about this property.
Your contact
Cabinet Le Nail

Bâtiment H, rue Albert Einstein 53810 Changé

+33 (0)2 43 98 20 20

Notes :